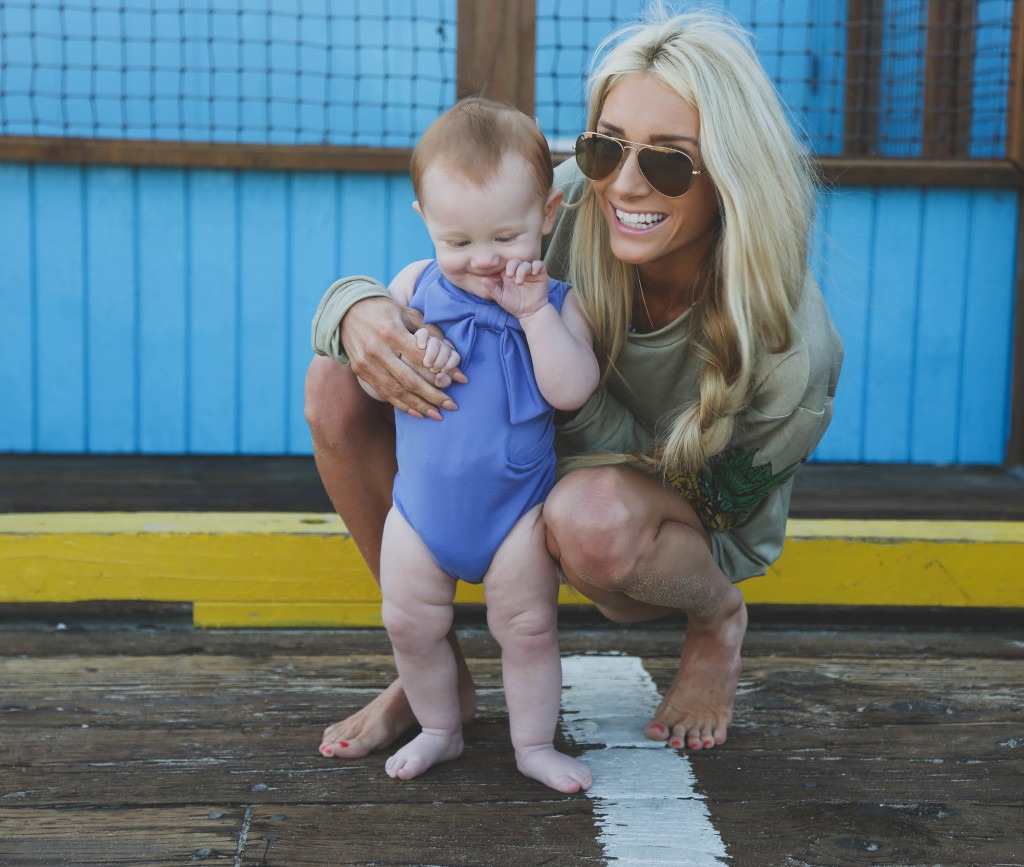 Sweater// Sunnies // Suit (More will be in stock soon if your size is gone)
Aniston's Swim HERE
I loved reading these questions! I hope I answered all of them! Thanks so much for following and always supporting!
Xx
Q: What hair extensions do you use?/Color?
A: I use Bombshell extensions. And to be honest… I don't know my color! I didn't know what color to get so I sent in a pic of my hair color and they were able to match it perfectly. I've loved their hair. It lasts a long time and doesn't thin super fast. I've been buying my extensions from them for the last two years. If your hair is similar color to mine and you want my color you can just ask them for what color I get!
Q: What self tanner do you use?
A: Here (spray) and Here (lotion). I get both. One is a lotion and the other is a spray. I like the spray when I can have someone else spray me (Trev) I find that it stays a bit longer but the lotion is amazing too. If you get the lotion don't forget to get a mitt. Nice Salon's use this product for their spray tans, it's just a really great company and I have tried a gazillion self tanners and this has been my favorite. You MUST try it!
Q: How do you do your brows?
A: I use this pencil HERE. I've tried to find a cheaper one that I like just as much and I end up waisting money. I'll actually go through my cheap drugstore ones 4x faster than my mac one so you do get your money's worth. It's not a true pencil which I like, you just twist it up and the point is super super fine so it looks like real brow hair.
Q: What made me leave my previous job and start my own thing?
A: This one was a mixture of things. I didn't have Aniston at the time but I wanted to be able to work from home when we started having kids and that wasn't possible with that job. I thought it would be so cool to be with Trev all day everyday and work together. It was really a ton of things and it all just kinda fell into place and I could go on and on about this topic but to keep it short it was just something I thought of for a long time and I finally just had to do. The timing was right. You can read more about starting and life with our business here
Q: How do we have a red head baby?
A: We have no idea. haha. There's red hair on my side of the family that I never knew about but it's generations and generations back so I guess that's where it came from. I had strawberry blonde when I was little and then it changed to light light blonde so we'll see what happen's with little Aniston's.
Q: Top baby names?
A: I can't say!! haha. Trev and I have our next boy and girl names picked out so we need to start popping more babies out and then you'll know my top baby names 😉
Q: Balancing business/blog/ and fam?
A: I don't have an answer to this one because I haven't figured it out yet. Haha.  We have work days and fun days. And a lot of days with a mix of the two. Everyday is family day for us. Aniston comes to all our meetings with us and we make it work somehow. It's a lot of work but it's a lot of fun. There are times where I'll slip with the blog and not do it as much as I should and times where I don't cook dinner as much as I'd like that week but Trev helps me see the parts that I am doing a good job on and makes me feel better about it. My number one priority is my family, being a wife to Trev and a mom to Aniston. I also have an amazing team behind my business that makes my life wayyy easier!! haha. We love our Shop Stevie fam.
Q: Do I like living in Utah?
A: I love living in UT and I never ever thought I'd say that! Let alone live here and raise a family here.  I'm from CA originally and thought I would never live anywhere else. But I moved to Utah and it's just so fun. It's a fast growing place, there's so many businesses and new things. The people are so nice and genuine. The mountains are unreal! It's cheap to live here compared to CA so anytime we want to escape the cold we just leave for a few days.
Q: Favorite dinner and treat places?
A:
Happy Sumo is a favorite dinner place of mine, Trev and I went there on our first date:) I don't like fish so I get the buffalo roll! (it's chicken)
The vanilla bean is my favorite dessert place right now. EVERYTHING is amazing! I love the storm drink and they just added quiche and it's soo good!
Q: Workout/diet?
A: Luckily I have a sis that knows everything about dieting and working out so I just get workouts from her and meal plans. As far as excersise goes I was super active all growing up, I did club swim, ran track, pole vaulted, ran cross country, rock climbed, cycled.. When it comes to working out I'm not good about going to the gym on my own so I need someone like my sis to keep me on it! You can dm her on instagram @meg.price for her meal plans and workouts. Below is an old pic of her progress, she's amazing.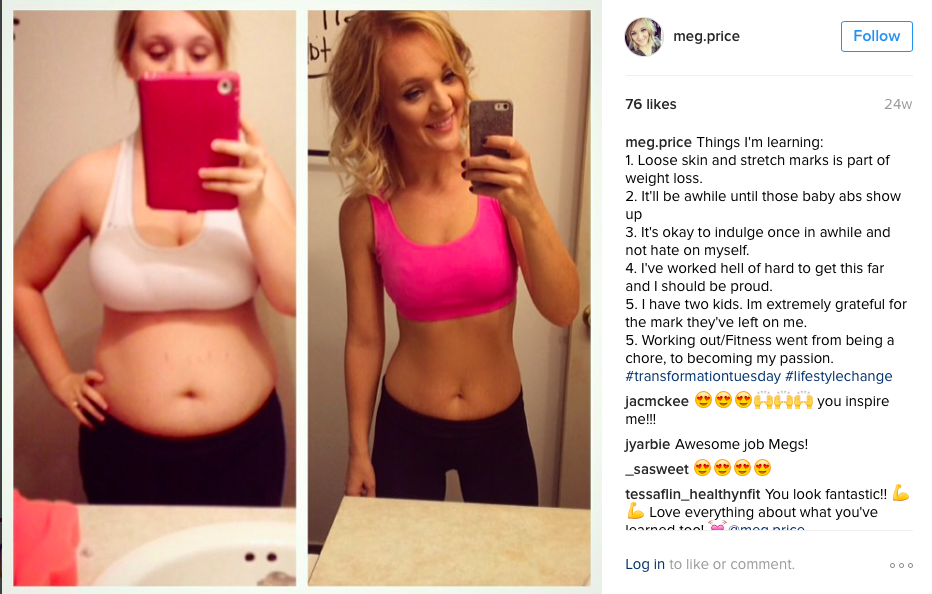 Q: What Camera do you use? 
A: We have a Cannon 5D Mark iii, HERE!
Q: How do we afford to travel so much?
A:Points! haha we LOVE our venture card, HERE. We did a lot of research and it's the best card out there for travel. You get points with any purchase. I don't believe in going into debt so I don't want to promote a credit card in that way. We use our card as if it were a debit card and use it with every purchase so we can get points. It's really smart to open up a credit card account even if you never use it just so you have some sort of credit for when you want to buy a house or anything. Most of our travel is covered by points and if not we save up and spend our own money. We work CRAZY hard so we can play hard:)
Q: What is the importance/meaing of modesty to you?
A: What a great question! Being modest for me is so many things! Modesty isn't just how you dress, it's the language you use and behavior as well. Growing up I was taught to be modest in how I dressed and I didn't really understand why but I just did it but as I got older and dated I was so grateful that I was taught certain things about modesty. How we dress says things about who we are. It influences the way people act around us and who we attract.  I wanted to attract a guy that was interested in who I was as a person not just my physical appearance. Being modest is a way that I respect my body as a women. I don't need to show off certain parts and things to feel beautiful or get attention. Our bodies are so special, and have a great purpose. They are used to attract and have babies but at a certain time with a certain person. Trev is the only person I feel that needs to see me in those ways.
As a blogger, I don't want other women to compare themselves to me or my body. There are so many different body types and situations out there. We are all made differently and that's a good thing. I hope that I can always make others feel good about themselves!
Q: Did I go to BYU?
A: I didn't but I lived with everyone that did. It's a super fun area and always a lot going on. If you're picking schools, I would go to BYU or a surrounding school in that area. I just think it's a really great place to be and meet people!
Q: Tips for starting a blog?
A: Just start! The biggest thing is starting. Luckily there's tons of companies and photographers around that are willing to collaborate. Take advantage of that! Collaborate as much as you can and try to get reposted on different channels and feeds.